LSO Discovery
Soundhub Showcase
TODAY'S CONCERT
Tonia Ko Held (world premiere)
Liam Dougherty Hymn to God...In My Sickness (world premiere)
Kate Milligan Visions | Vestiges (world premiere)
John Aulich in hollows spilled thin (world premiere)
Darren Bloom conductor
Miya Väisänen violin
Mira Benjamin violin
Louise McMonagle cello
Heather Roche clarinet
Sam Walton percussion
Jacob Brown percussion
Matt Farthing percussion
Helen Tunstall harp
USING YOUR DIGITAL PROGRAMME
Connect to the free hawksmoor WiFi network.
Navigate using the menu icon (≡) at the top of the screen.
Please set your phone to silent and don't use other apps during the music.
Please note this performance includes video footage with fast-changing and flashing scenes, and showing images of war. The second piece includes very loud noises. Ear plugs are available on request. Please speak to a member of staff if you have questions or concerns.
About the Soundhub Scheme
Based at LSO St Luke's, LSO Soundhub provides a flexible environment where composers can explore, collaborate and experiment, with access to vital resources, support from industry professionals and LSO members and staff.
Soundhub is a composer-led resource, responding directly to the needs of those using it: a supportive framework for artists to try out new ideas, develop existing work and benefit from peer-to-peer networking and support.
LSO Soundhub is generously supported by Susie Thomson
Tonia Ko
Held
✒️2023 | ⏰16 minutes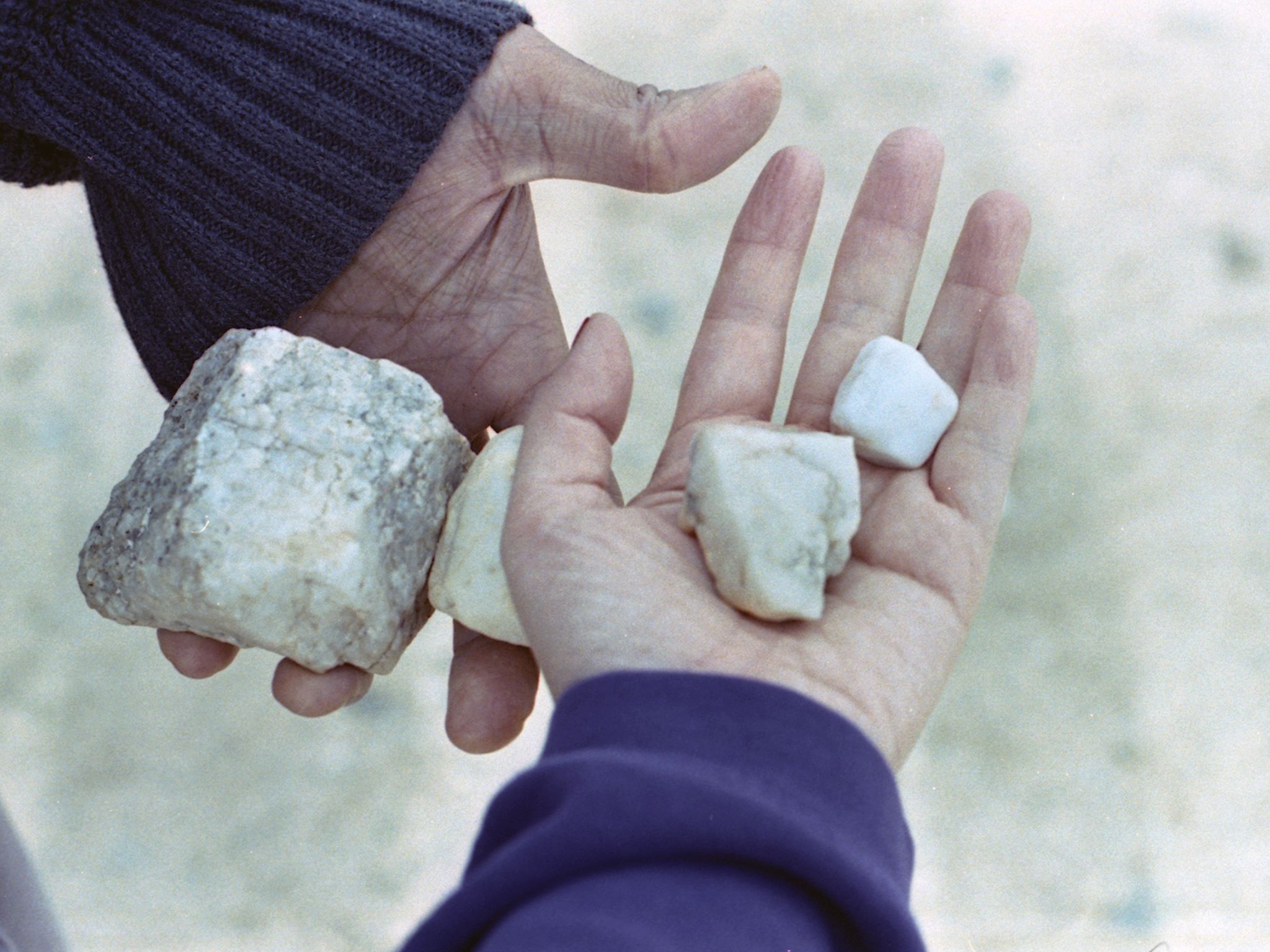 Held features suspended moments of time which are filled by the patient, introspective images of filmmaker Alexandra Cuesta. They contain both still and moving glimpses of a love story within a desert landscape. The music does not serve as an underscore; rather the visuals participate actively in the unfolding of time in this composition.
The dichotomy of intimacy and distance pervades both the images and the music. In the images, pairs of various objects appear together then apart. Hands, people, rocks, and lanes of road are repeated motifs that, as in all of Cuesta's work, do not provide a clear narrative but instead an emotional space. The timbres of the sound-world are similarly intimate, opening with a delicate hocketing texture that features a wide palette of resonance, ranging from ringing to muted. As the piece continues, previously independent contrapuntal strands gradually weave together tightly before unravelling once again. The trio also appears mostly as pairs of instruments. Further reinforcing the idea of distance is the violin, which embarks on a lonely solo at the end.
The act of holding plays out clearly in the images, where hands hold objects and people hold each other. The desert mountains hold the entire scene. The concept is also embedded in the trio of stringed instruments, where performance technique is particularly tactile and focused on the hands. Finally, a deliberate use of silence features throughout, representing suspended or 'held' time.
Note by Tonia Ko
Tonia Ko
Tonia Ko has collaborated with leading soloists and ensembles across a variety of media – from acoustic concert pieces to works with electronics and improvisation. The recipient of numerous accolades including a Guggenheim Fellowship and Koussevitzky Commission, Ko's music has been lauded by The New York Times for its 'captivating' details and 'vivid orchestral palette'. Her work has been presented by Carnegie Hall, the Kennedy Center, Huddersfield Contemporary Music Festival, Royaumont, Podium Esslingen, and the Tanglewood and Aspen festivals.
Recent projects include commissions from Tangram, Riot Ensemble, and Magnard Ensemble. Upcoming premieres/releases include a bubble wrap concerto with Contemporaneous at Brooklyn's National Sawdust, music for 'Felix's Room', a digital theatre production at Berliner Ensemble, and an album featuring Plain, Air with Spektral Quartet and author Robin Wall Kimmerer.
Born in Hong Kong and raised in Honolulu, Hawaii, Ko holds a DMA from Cornell University. She is currently Lecturer in Composition at Royal Holloway, University of London.
Alexandra Cuesta
Alexandra Cuesta is a filmmaker and photographer who lives and works between Ecuador and the United States. Her 16mm films and videos are portraits of public places and urban landscapes, and the people in them. Reminiscent of documentary practices such as street photography, Cuesta's work is also rooted in the poetic and lyrical sensibility of the avant-garde. Cuesta's films have been widely screened at venues and festivals such as Centre Pompidou, Viennale International Film Festival, New York Film Festival, BFI London Film Festival, Anthology Film Archives, Los Angeles Filmforum, Queens Museum of Art, and Punto de Vista, amongst others.
Liam Dougherty
Hymn to God...In My Sickness
✒️2023 | ⏰20 minutes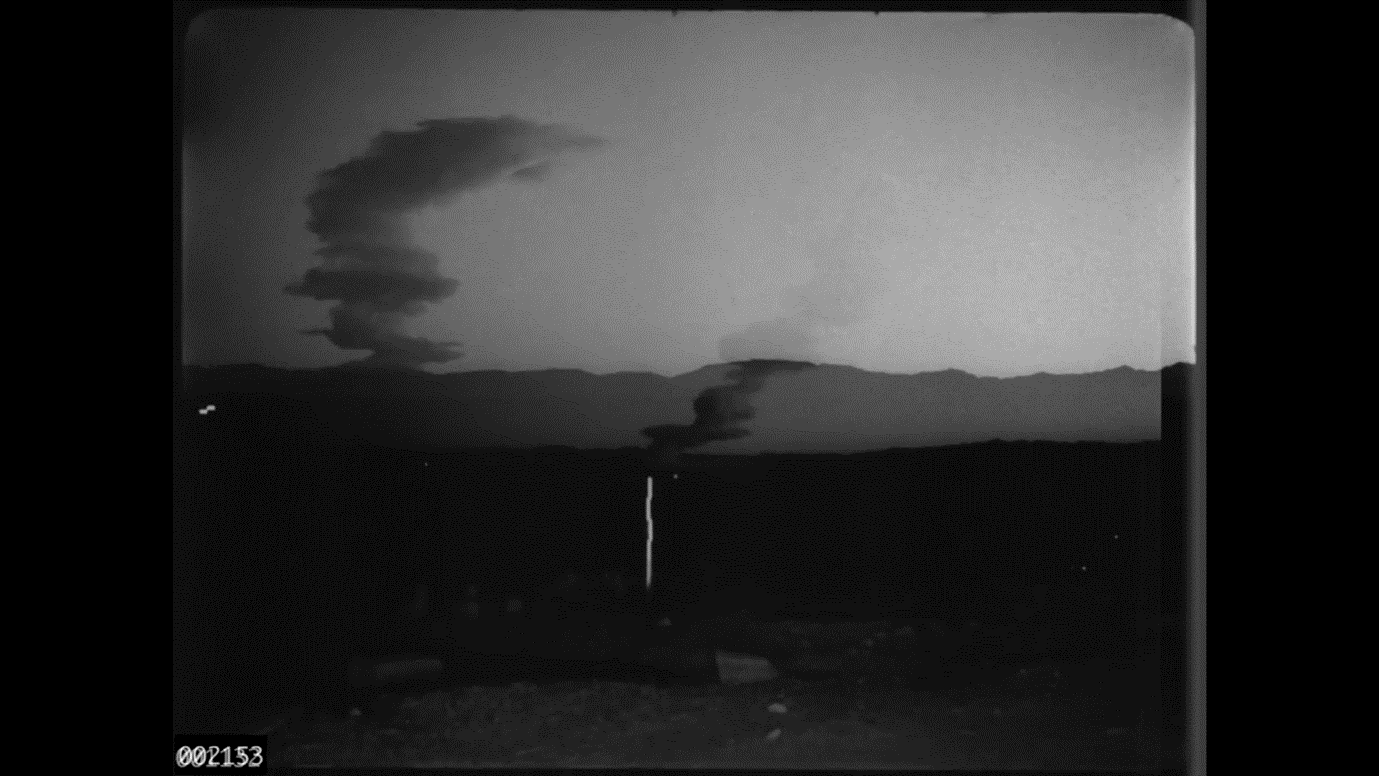 Hymn to God...In My Sickness is a multimedia composition for three performers and video. The work is the product of my discovery of the Lawrence Livermore National Laboratory's archival footage of the American atomic weapons tests conducted between 1945–62. These early attempts to capture an unfathomably destructive event exist here as abstract snapshots that have decayed and distorted due to the state of the film itself.
The film and fixed media audio are composed of edited and collaged excerpts from this 'documentary' footage and the few existing audio recordings of the tests. With the now well-established existence of this terrifying technology hiding in the shadows around the globe, I became fascinated by the question of what exactly it looks like and sounds like in the collective cultural consciousness.
Though the reality of global violence and destruction may now be at the forefront of our fears once again, the nature of these events makes it nearly impossible to accurately understand their totality. Instead we rely on Hollywood sound design, special effects, or, in this case, the now antiquated footage of the tests themselves.
My aim in this work is to engage with the materiality of these documentary sources as our best means to grapple with this reality. The audiovisual distortion and granularity that result from the dated documentation are elevated to the work's foreground. The instruments' role in the work is inflicted upon them by a means of speakers and microphones. These technologies, stewarded by the musicians, are manipulated and transformed to become the primary drivers of sonic material. The work is not intended as a musical rendering of these elements and ideas, but rather it is intended to present this reality in a concrete form to allow the audience to evaluate our relationship to these forces.
This work, Hymn to God...In My Sickness, is adapted from the LLNL Atmospheric Nuclear Tests Collection by Lawrence Livermore National Laboratory, used under CC BY-NC-SA 4.0. Hymn to God...In My Sickness is licensed under CC BY-NC-SA 4.0 by Liam Dougherty.
Note by Liam Dougherty
Liam Dougherty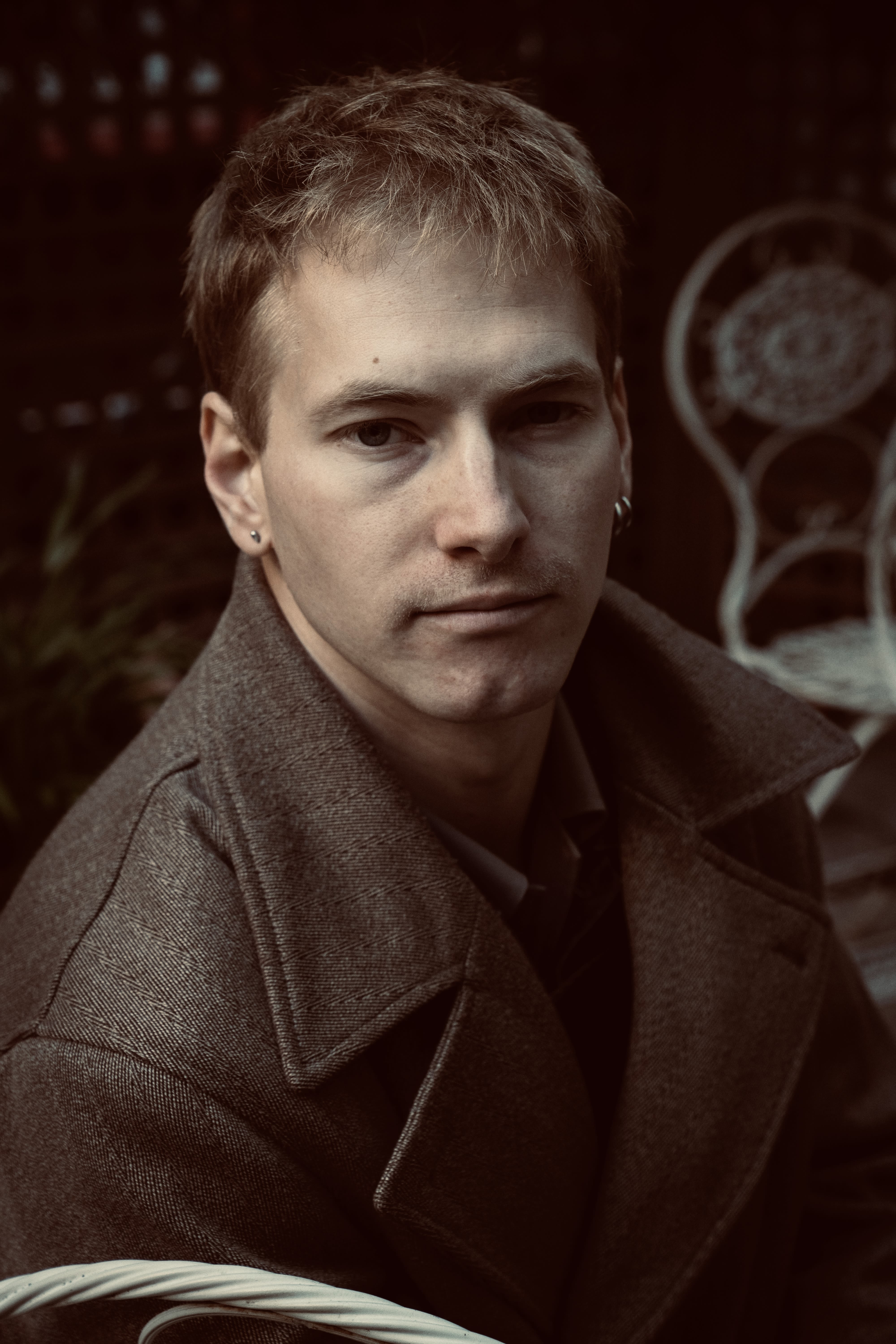 Liam Thomas Dougherty (b 1996) is an American composer and media artist. He works between spaces such as electroacoustic concert music, sound collage, and conceptual audiovisual installations. His music is concerned with elements such as drone, noise, and psychoacoustic phenomena, and he often focuses on instrumental design and found-sounds/objects/footage as essential to a composition practice. Recent projects include: a short opera for mixed chamber ensemble and tape on the life of the painter Richard Gerstl and his relationship to the Schönberg family; and a series of installations for a deconstructed upright piano and feedback, and an ongoing series of audiovisual works utilizing archival footage of American nuclear weapons tests. Liam was born and raised in Denver, Colorado. He completed his Bachelor's degree in Art History at the University of Michigan, and he is currently completing his Master's degree in composition at the Royal College of Music in London where he studies with Jonathan Cole and Catherine Kontz as a John Astor Fund Scholar.
Kate Milligan
Visions | Vestiges
✒️2023 | ⏰20 minutes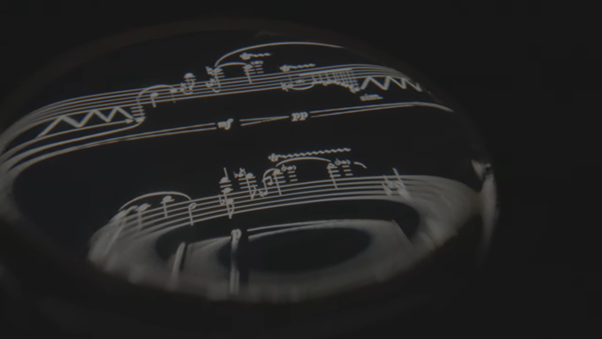 Performance-installation for bass clarinet, cello, percussion, electronics, and sculpture (antique wood, handblown glass).
Vision (noun) c 1300 from Middle English visioun, 'something seen in the imagination'.
Vestige (noun) c 1600 from French vestige, 'a mark, trace, or sign'.
An exercise in trans-temporal invention
This time is yours, for now. In due course it will slip beyond your grasp – only vestiges will linger in your memory. For the time being, hold it close, and let this music hold you.
Reach forward – really stretch. Push against the present moment, and feel the dense future soften to the touch. Feel it give – search beyond.
What have you found? Your future is built from the bric-a-brac tucked away in the pockets of your memory. Things you thought were lost, perhaps, fallen through a hole worn over a lifetime. Where have they been? Bound in a secret manuscript, stored in the dark recesses of your mind under lock and key.
See how they assemble, shifting, recombining in your future vision. Novelty is born from that which was once familiar. Hold your invention, just for a moment. Now let it go.
Note by Kate Milligan
Kate Milligan
Kate Milligan is a West Australian composer, conductor, and interdisciplinary researcher.
Kate's work brings design thinking to music. She researches living systems and natural phenomena for their capacity to inform composition and sound art, with reference to the themes of time and memory. Her work pushes the boundaries of notational practice, incorporating visual arts and sculpture. Kate has written for electro-acoustic ensembles across Australia, and her work has received support from APRA, AMCOS and the Australian Music Centre, as well as the Australia Council for the Arts.
Kate is currently completing a Master of Art in Information Experience Design at the Royal College of Art, London. This study is generously supported by the Schenberg Music Fellowship and the Ian Potter Cultural Trust. She holds a MMus (musicology) and a BA(Hons) (composition) from The University of Western Australia.
John Aulich
in hollows spilled thin
✒️2023 | ⏰20 minutes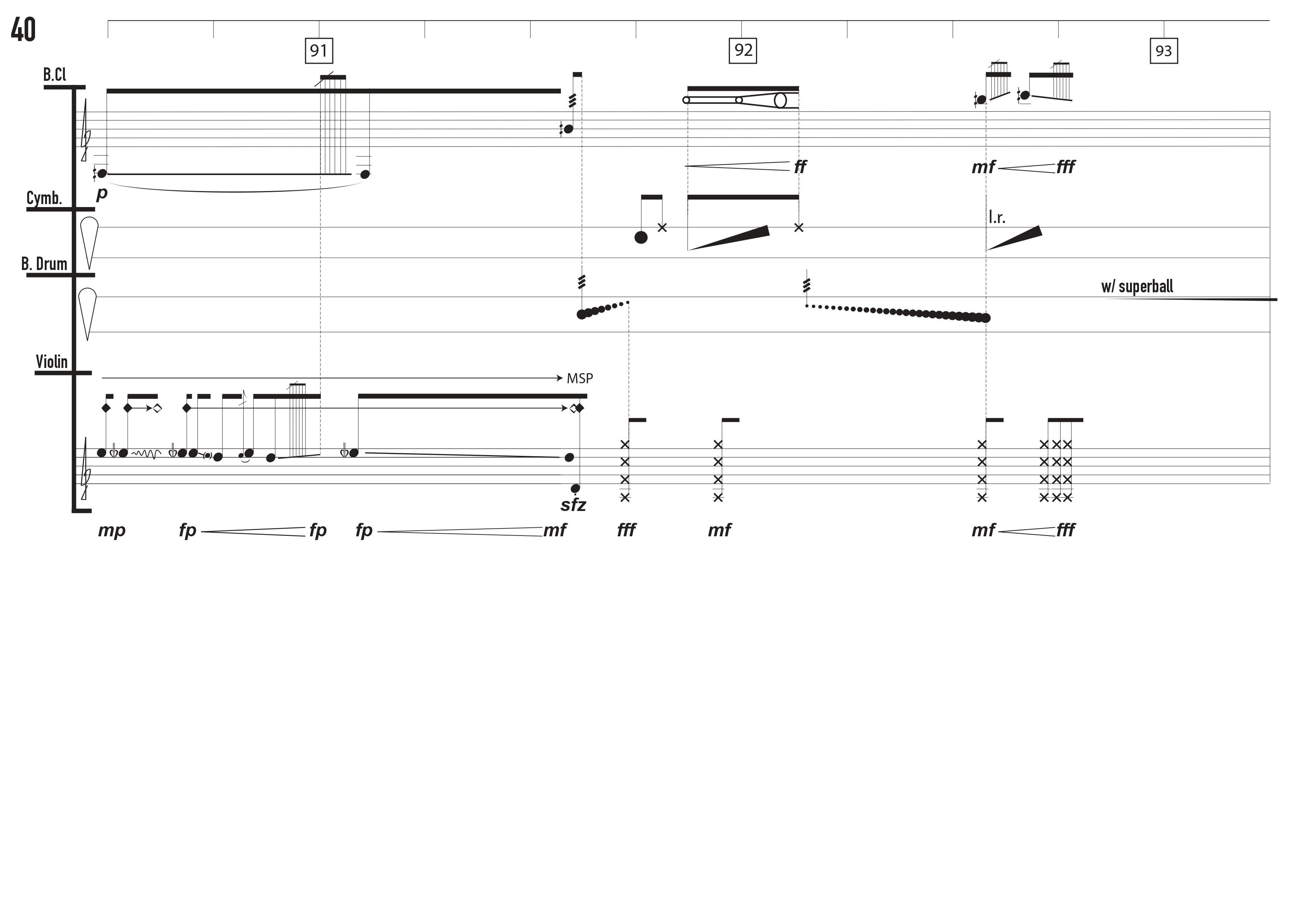 'But if we listen carefully, we can hear the whispered murmurings of infinity immanent in even the smallest details.' — Karen Barad
In hollows spilled thin was inspired partly by Manchester's rivers and underground canals, which seep into culverts and tunnels beneath the city centre. Snaking through underground passages of varying sizes, the worlds they inhabit variously invoke the visceral feelings brought about by extremes of space, from intense claustrophobia to the infinite expanses of gloomy abysses. Photographs of lichens and mosses from these subterranean microcosms often capture fidgeting insects mid-motion; they have a zoomed-in quality; an excessive and obsessive degree of detail that, like horror and sci-fi film closeups, obscure their subjects and exchange representation for pure sensation. It's these sorts of visceral qualities, found where the relationship between the body and space is highlighted, closeness and distance; abjection and decay; the impossibly small and the incomprehensibly gigantic, that interested me most in the creation of In hollows spilled thin. What lurks beneath the sense of broken promises and alienation that these rivers and canals produce in me is something fragile, uncertain, and replete with sparks of jubilation.
Note by John Aulich
John Aulich
John Aulich is a British composer whose works are performed internationally, including in the United Kingdom, United States, Israel, Thailand, Australia and Italy, by world-renowned performers such as ELISION Ensemble and International Contemporary Ensemble. His work has been performed at MATA Festival, CEME and June in Buffalo. John's work is characterised by evocative, highly-charged and volatile sound-worlds stemming from the physicality of performance, and often inspired by surrealist art and literature, science fiction and ancient mythology. His oeuvre as a whole takes as its first principle the idea that composing, performing and listening is a lived, embodied and physical experience. A particular focus of his latest work is abject, disgusting and surreal sound-worlds, conveyed in part through a contortion of the listener's sense of space and perspective. In March 2023, John was selected for the ISCM British Section's shortlist of composers submitted to the ISCM World New Music Days Festival.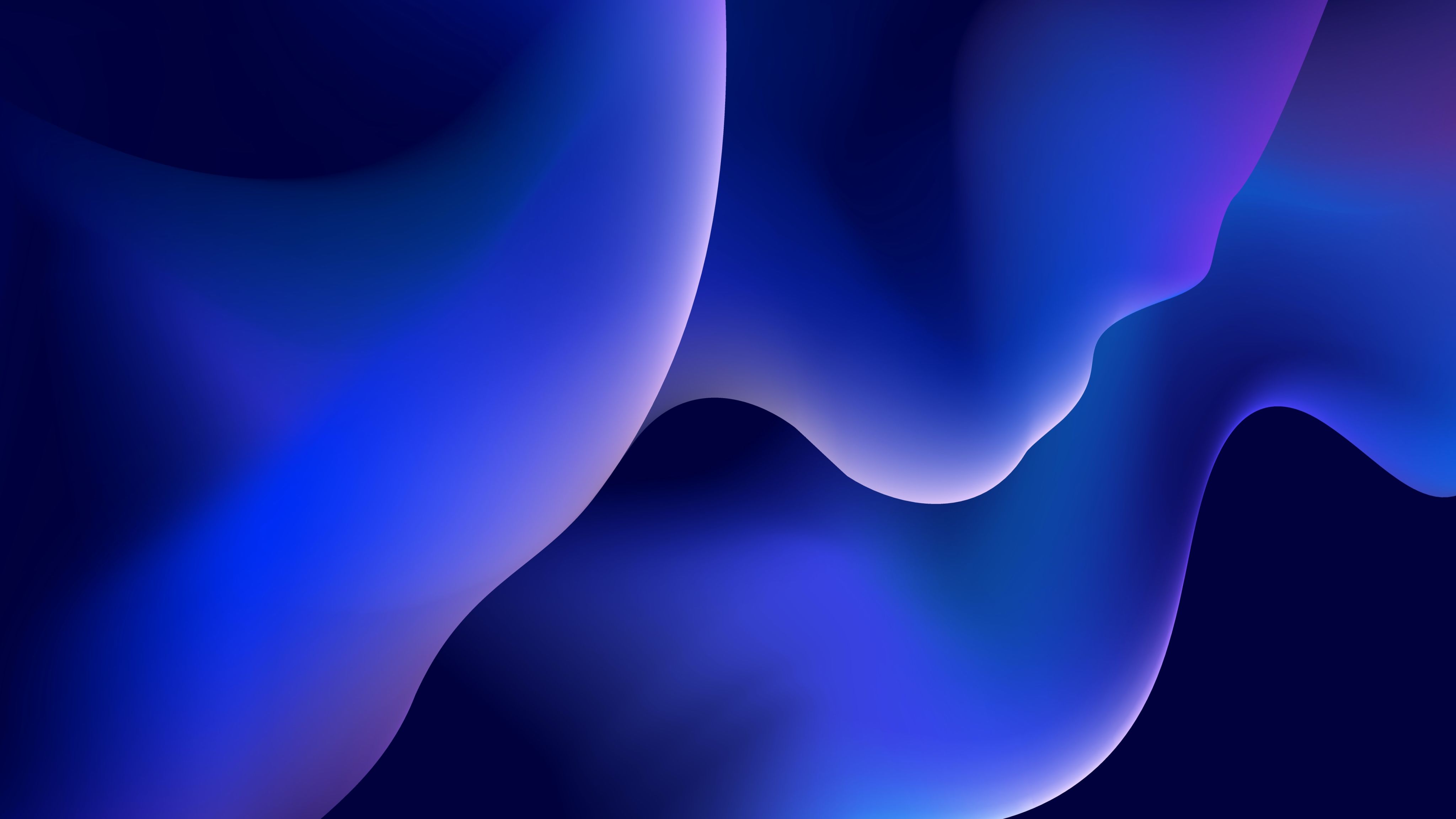 Darren Bloom
conductor
Darren Bloom is a composer, conductor, and educator. Described in The Times of London as 'almost mystical ... a genuine frisson', Darren's music is noted for its combination of 'evocative harmony' and 'raw power'. His chamber symphony, Dr. Glaser's Experiment, was commissioned by the London Symphony Orchestra and praised in theartsdesk.com as a 'confident answer to the question: How can an orchestra perform the music of the future?' Darren's Strange Attractors for his own Ossian Ensemble was selected for the International Society for Contemporary Music by the UK panel, and his opera KETTLEHEAD was performed in the Tête-à-Tête and Grimeborn Opera Festivals. A winner of the Royal Philharmonic Society Composition Prize, Darren was commissioned to write his Five Brief Lessons on Physics for the Piatti String Quartet and Cheltenham Music Festival.
Named a 2023 'Rising Star' conductor and composer in BBC Music Magazine, Darren regularly conducts for the LSO Soundhub Scheme and has recorded three CDs of new music on the NMC label with the London Symphony Orchestra (Six Degrees of Separation – Five Stars in BBC Music Magazine), Philharmonia Orchestra, and New London Chamber Ensemble with percussionist Evelyn Glennie. For the past three seasons he has directed the Cambridge University New Music Group.
A graduate of the Royal College and Royal Academy of Music, Darren is completing an AHRC funded PhD under the supervision of Richard Causton at the University of Cambridge where he also teaches composition and orchestration. He is Lead Tutor for Composition and Musicianship at the Trinity Laban Conservatoire Junior Department.
Miya Väisänen violin
Mira Benjamin violin
Louise McMonagle cello
Heather Roche clarinet
Sam Walton percussion
Jacob Brown percussion
Matt Farthing percussion
Helen Tunstall harp
Thank You for Listening
The London Symphony Orchestra was established in 1904. Through inspiring music, educational programmes and technological innovations, the LSO's reach extends far beyond the concert hall.
Visit our website to find out more.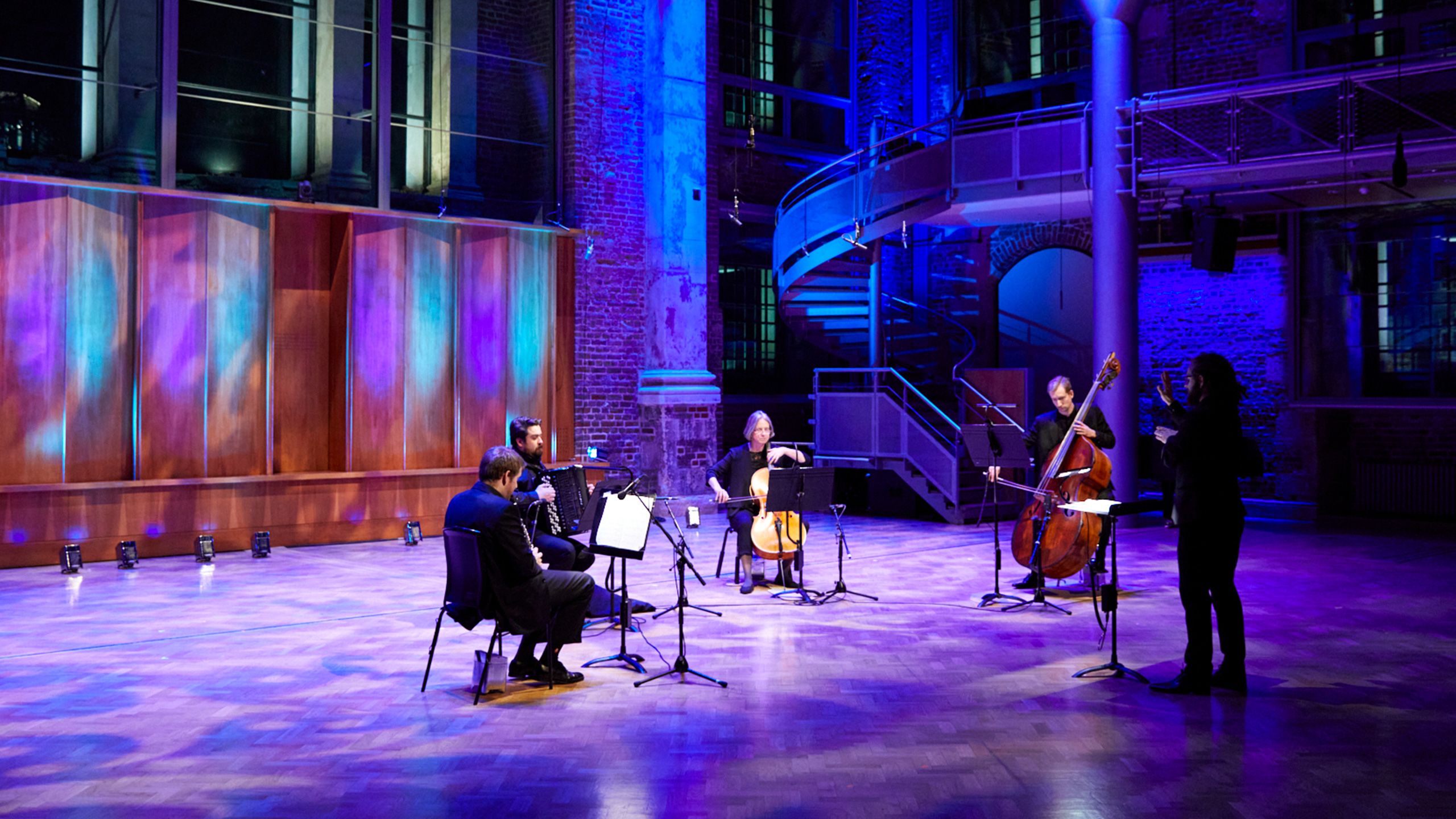 TELL US WHAT YOU THOUGHT
We hope you enjoyed tonight's concert, and would love to hear about your experience. Let us know your thoughts by filling out a short survey.
Dates for Your Diary
World premieres from Colin Matthews and Jonathan Woolgar (LSO Panufnik composer 2019/20), and Fanfares by Cassie Kinoshi (LSO Panufnik composer 2018/19), meet bold sounds of the 20th century by Bartók and Lili Boulanger in our annual LSO Futures contemporary orchestral concert.
In these free public workshops, witness a pivotal point in the process of writing a new three-minute orchestral piece, as the LSO play works by the latest cohort of Panufnik composers.